WHITE RING INFORMATIONAL VIDEO NOW AVAILABLE!!!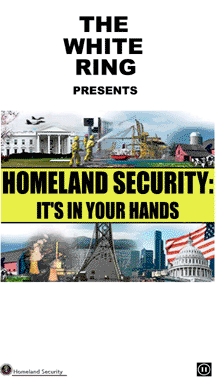 The hit videotape, featured in The White Ring's recent September 11 tribute concert in
San Francisco, is now available for purchase right here!!

Entitled "Homeland Security: It's In Your Hands", this exciting 11-minute video presents The White Ring as they present new and important tactics for safety in an age of a War on Terror. Featuring both archiveal and contemporary footage, this video shows how innovative programs such as the Total Information Awareness system go to work in communities around the United States and beyond. Your hosts are The White Ring. It's also a great teaching tool for teachers and educators in plain, concise language for all to understand.
Click Here to Order your VHS copy of HOMELAND SECURITY: IT'S IN YOUR HANDS for $10 postpaid in the United States (please write us about overseas availability).


Read more about THE WHITE RING