2005:
8/5/2005 - BATTLE OF THE SOUTHEAST ASIAN BANDS: Neung Phak vs. Dengue Fever... live on stage! - For the first time in this or any hemisphere, Neung Phak and L.A.'s Dengue Fever perform on the same co-headlining bill at the Great American Music Hall on Friday, August 5! Click here for details and to purchase tickets.

5/2005 - NEW NEUNG PHAK 7" ON THE HORIZON - Neung Phak is out of the studio and ready to unleash their newest release, a 3-song deluxe 7" record on the Abduction label: FUCKING USA, containing a studio recording of the title tune, as well as two energetic live cuts from their 2004 appearance on WNUR FM in Evanston, IL. Copies will be available from this web site soon, and at the August 5 Great American Music Hall performance.

4/2/2005 - PUSSER'S PIHN PLAYS SAN FRANCISCO AGAIN - Neung Phak spinoff project, Pusser's Pihn, the all-Lao/Thai groove project led by ace pihn/guitar player Brently Pusser, hits the "enlarged" Hemlock Tavern (1131 Polk St. San Francisco - (415)923-0923). Also on the bill are Alvarius B. AND the Master Musicians of Bukkake. What a hoe-down!

2004:

10/29/2004 - HALLOWEEN WEEKEND WITH NEUNG PHAK AND SUN CITY GIRLS - Neung Phak/Mono Pause again shares the stage with Sun City Girls at the Bottom of the Hill, San Francisco on Friday, October 29. The big humdinger of a show also features Six Organs of Admittance and DJ Ursula, and it's the Girls' sole Bay Area appearance. Sure to be a sell-out, so get your tickets early at the (evil) Ticketweb.com or come early to the venue. SPECIAL BRAND-NEW LIMITED CD-R TO BE UNVEILED AT THE SHOW!

5/7-9/2004 - NEUNG PHAK INVADES THE MIDWEST IN SUPPORT OF SUN CITY GIRLS! The chameleonic trio from Seattle-by-way-of-Arizona known as Sun City Girls will headline three midwest shows in May with Neung Phak in support.
FRI 5/7: CHICAGO, IL- The Empty Bottle, 1035 N. Western - (773)276-3600
SAT 5/8: MADISON, WI - CANCELLED! Replaced by...
SAT 5/8: MILWAUKEE, WI - Onopa Brewing Company, 735 E. Center St. - (414)264-3630
SUN 5/9: MINNEAPOLIS, MN - Triple Rock Social Club - 629 Cedar Avenue - (612)333-7399

4/24/2004 - NEW MP3s UP FOR DOWNLOAD Share and enjoy two live recordings from the Ivy Room in December 2003... a frenetic version of live favorite Cheer and a morlam featuring the guest violin of Patty Liu. Both are from the early evening set and were not broadcast live on KALX FM.

4/14/2004 - NEUNG PHAK LIVE! Neung Phak plays their great hits, at the extremely intimate Hemlock Tavern (1131 Polk St. San Francisco - (415)923-0923) on WEDNESDAY 4/14, with Soft from Japan in the opening slot. Show begins around 10:30 PM. The Hemlock only holds about 70 people, so don't say you weren't warned if you find it very crowded in there or are unable to get in. Neung Phak will play again someday.

2003:
11/5/2003 - NEUNG PHAK DEBUT CD NOW AVAILABLE!!!!!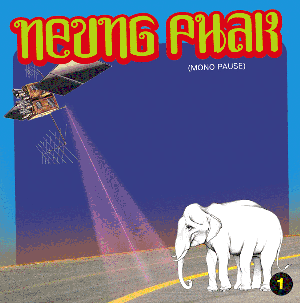 15 tracks of Thai-Issan-Cambodian/Khmer-Vietnamese-Taiwanese-West Oaklandese full-flavored HITS, now available for your consumption via the Abduction label.

ORDER IT HERE for $13 postage-paid in the USA/Canada or $14.50 postage paid anywhere else, or ask for it by name at your local record mart.
BUT CHEAPER RIGHT HERE!!! (Orders processed via PayPal)





Within the USA/Canada... $13




Anywhere else... $14.50



12/20/2003 - LAST LIVE PERFORMANCE FOR A WHILE - The Ivy Room, 858 Solano Ave., Albany - 510-524-9299 - TWO SHOWS with San Francisco's CONDOR opening!
8pm early show and 11pm late show. Same set both times, so don't become excited.


5/2003 - Secret "guest" vocalist appears in studio for appearance on upcoming debut album, slated for fall '03 release on the Abduction label. Details to follow as available.


1/2003 - Mysterious "bootleg" CD-R appears with a handful of rough and/or live recordings.

2002:
7/2002 - Neung Phak (Mono Pause) completes first West Coast/Southwest tour with Aavikko.

2001:
September 15, 2001 - Neung Phak makes its first public appearance, four days after four buildings and three planes make history.